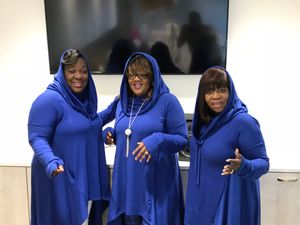 Bio
Our Mission:  To inspire, to awaken and to motivate a Holy lifestyle that reflects the image of Christ through song. 
Our Vision: To impact the world with anointed singing.  To bring hope where there is no hope, that souls may be saved, set free and changed forever.
PerfectWill, is not just a singing group but a ministry.  Our goal is to release the power of God to those who might be contemplating suicide or deeply hurting, maybe you're frustrated and angry, abused, those who suffer, and are addicted to drugs pornagraphy,  prostitution or who are alcoholics, or maybe  you're just stuck in life and want to be free! PerfectWill is interceeding for your complete deliverance.  Get the breakthrough you've been anticipating through anointed singing. 
It is formed of three sisters, Rochelle, Beverly and Cheryl.  Borned to the late Joshua Keller Jr. and Ethel Marie Keller, Pastor and Founders of the Gethsemane COGIC located in Los Angeles CA.
• PW delivers music that helps broken individuals break through their obstacles to a life of power and authority in Jesus Christ! 
• So if your looking for music that destroys the yoke because of the anointing!, You've got to get your hands on this CD 
"I've Got Power!, the Lord's Release" 
•We've received  numerous testimonies from fans of the Miraculous deliverance of God because of this CD!  
We love to hear your victory testimonies.  Share on our Manifestation Page
"

Its not a Coincidence, It's Providence"